Westone Spectrum Series II bass
There were 3 models in the Spectrum Series II range of basses, SPB102, SPB221 and SPB 311. All of these models only appear in the 1988 UK catalogue - so while some may have been made by Matsumoku, the majority of Spectrum Series II guitars and basses were made in Korea.
SPB102
Hard Rock Maple neck,
Rosewood 350 radius fretboard, 34 inch scale, 22 2.7mm frets
Magnabass II pickup, master volume and tone controls.
Chrome hardware, Trak IV bridge
Available in Black (SPB102BK), Snow White (SPB102SW) and Red (SPB102RD)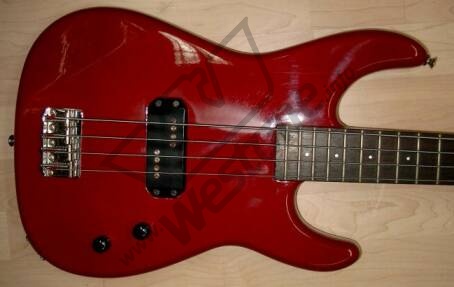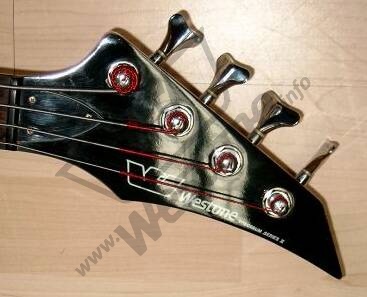 SPB221
'Solid wood' body (The 1988 catalogue only states this for the SPB221 and 311 - perhaps the 102 was a laminate?)
Canadian Hard Rock Maple neck
Rosewood 350 radius fretboard 34 inch scale 24 frets (Early models had 22 frets)
Chrome Magna Cast bridge
2 pickups - Magnabass II pickup (Neck) Magnabass III pickup (Bridge)
One volume and two tone controls, 3 way pickup selector.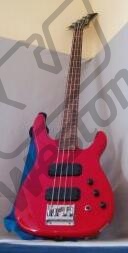 SPB311
Solid wood body.
Hard Rock Maple neck,
Rosewood 350 radius fretboard, 34 inch scale, 22 2.7mm frets (Early models - by the time the August 1988 pricelist came out they had 24 frets).
Position markers are larger than on the other models.
Magnabass IV (Neck) and V (Bridge) pickups, master volume, tone and equalizer tone controls, dual tone and active on/off switches.
Black hardware.
Available in Black (SPB311BK), Pearl White (SPB311SW) and Candy Apple Red (SPB311CAR)